8 min read
Is Your Food Equipment Up to FDA Sanitary Standards?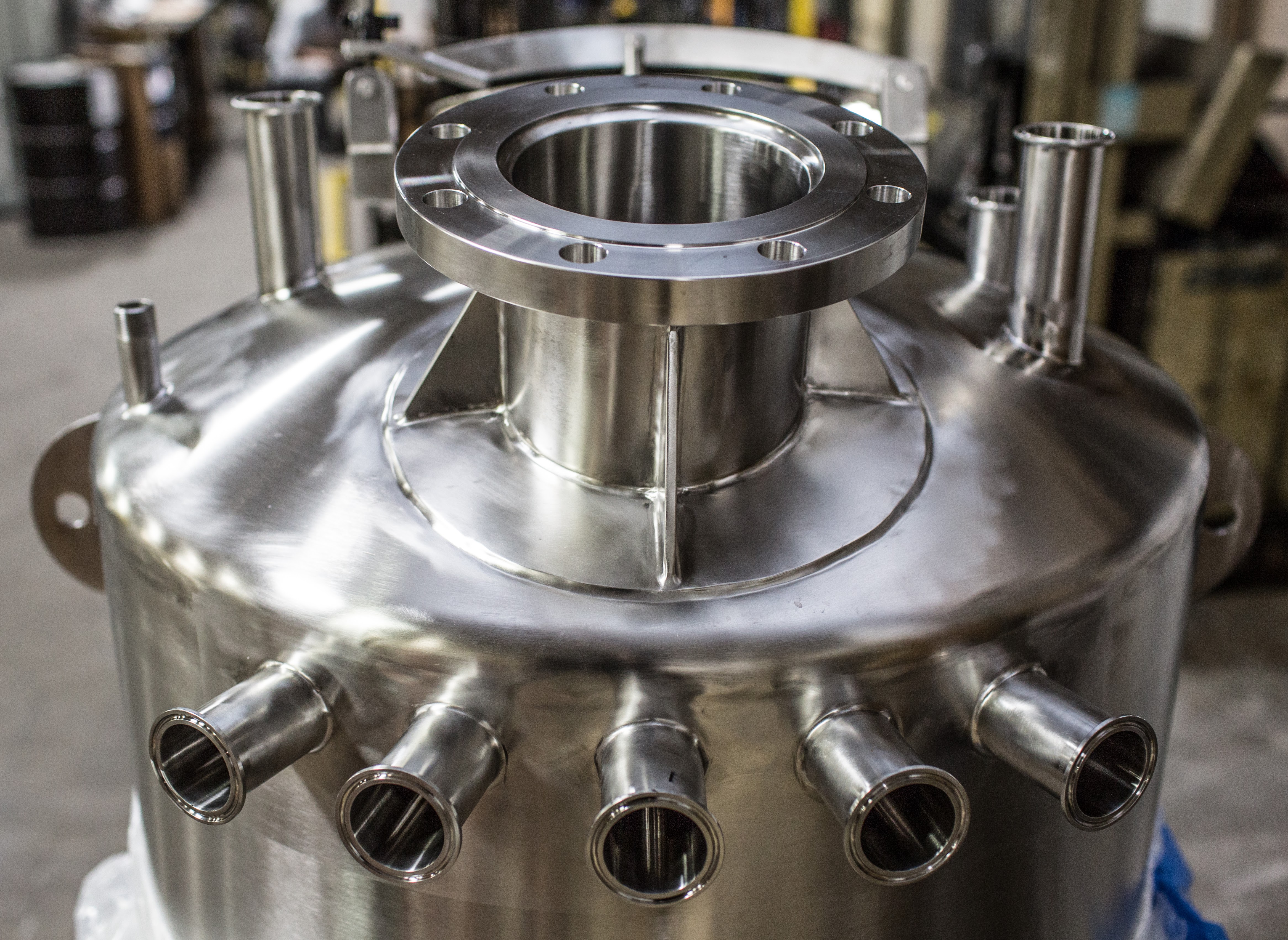 All of us in the food manufacturing business strive to avoid seeing headlines containing phrases like "contamination"," sickness", or "death" when it comes to running a business. Thankfully, this collective fear and concern for the well being of the public has produced standards that allow us to avoid that headline if we but know them and adhere to them.
History
The modern standards for equipment design and equipment components have their genesis in the 1988 ASME Winter Annual Meeting (WAM). The interest generated at that year's WAM produced the ASME Council on Codes and Standards (CCS). The initial scope that would define future standards was approved in 1989, and incorporated testing, inspection and design for piping, vessels and accessories related to the food industry.
In 1990, the previously formed ad hoc committee further developed the scope and agreed on the following standards:
Equipment designs that could be easily cleaned and sterilized

Maintaining weld surface quality alongside surface strength

Standard definitions that would easily translate between end users, suppliers, fabricators and designers

Smoothly upgrading the current scopes and standards that were already covering equipment used in the biopharmaceutical industry
The standards that were created were developed in tandem with 3-A Dairy Standards, the European CEN and ASTM. The first edition of the Standard was published in 1997, and serves as the basis for the standard today.
The Current Scope of the ASME BPE Standard
Equipment and components that are used for the manufacturing of any biopharmaceutical and are either cleaned or steamed in place must adhere to the requirements of the current ASME BPE standard. The scope of the current standard applies to all design and fabrication components, including:
System boundary definitions

Construction materials that include specific elastomeric, polymeric and metallic elements

Dimensions of component parts

The finish of all equipment surfaces

Certification, testing, inspections and examinations

Materials joining
Quality Assurance
Any manufacturer who engages in the use of equipment in the food industry must create and implement an internal quality assurance program that describes all of the methods and procedures that are used in the manufacturing process. This includes methods of assembly, drawings and inspection methodology.
Quality assurance Inspectors and Inspector's Delegates must be duly certified. The following types of equipment each have specialized definitions as defined by the ASME:
Pressure vessels - Must be an Authorized Inspector as defined by the ASME BPVC, Section VIII

Tubing, piping and non code vessels - Must be either an Owner's Inspector as defined by the ASME B31.3, paragraphs 340.4(a) and (b), or an Inspector's Delegate as defined in the GR-8 and additional requirements in the GR-4.2.

Tubing and piping - Must be an Examiner as defined by ASME B31.3, paragraph 341.1.

If there are any local regulations that require any equipment to be constructed or defined by any standard outside of the ASME codes, the relevant party must also adhere to those standards in order to be defined as a proper authority by the ASME.
General Guidelines of System Designs
The owner and user define the requirements, application and specifications of bioprocessing systems. All process contact liquid service systems are required to undergo an additional flush of high quality water or a chemical cleaning process, according to owner requirements, before that system may be placed into service. Only pre-cleaned and single use components are exempt from this guideline.
Any component parts or systems that are subject to steam-in-place (SIP) processing must be constructed with the ability to withstand a continuous temperature of at least 266 degrees for 100 hours minimum under steady state conditions. SIP operations should also be monitored to ensure they are not conducted at a temperature surpassing 266 degrees, especially when involving the use of elastomers.
Fabrication
All equipment and components must be cleaned with a professional cleaning agent and properly covered before shipping. Under very few circumstances is the use of preservative fluids allowed, and they are never recommended. Any use of preservative fluids must be in compliance with FDA and other applicable regulations.
Materials of Construction
Equipment must be constructed of materials that have been proven acceptable, including the following standards:
Durability

- Materials of construction must be able to withstand chemical corrosion, pressures and temperatures that are utilized in daily processes.

Compatibility

-

All materials must be compatible with stated cleaning solutions, SIP conditions, bioprocessing conditions as defined by the user and owner, and an industry recognized standard as defined in paragraph MM-4 of the ASME BPE guidelines

.

Homogeneity

- All surfaces that are exposed to SIP cleaning or fluids must be nonabsorbent, impervious, inert, nontoxic, corrosion and scratch resistant, insoluble and naturally homogeneous.

Cleanability

- Any tubing, systems, or equipment that will require cleaning must respond well to surface cleaning methods and must not contain imperfections that cannot be cleaned or fixed. Fasteners and threads must be able to avoid being exposed to cleaning solutions, and bolted attachments should be reduced and eliminated as a priority. There should be no embossing or engraving of materials on the process contact side; if they are required at any point, other identification methods must be utilized.

Drainability

- Gravity is considered an effective way to drain bioburdens away from process surfaces. To this end, Nonmandatory Appendix C of the ASME BPE standard designates pitched lines that move to points at a designated slope for various systems and equipment types. Gravity drained systems must be constructed in such a way that the continuous pitch of the system equals or betters the designation of the slope.

Additional Requirements

- There are additional requirements for systems or equipment that are intended to be cleaned in place (CIP), such as the availability of lubricants and the exterior design of certain equipment that must be frequently washed down.
Standards for Process Components
In general, the properties of system components within the standards of hygiene are designed to reduce the amount of hard to clean areas in a design while facilitating the ease of use of cleaning agents. The most important of these standards includes the following:
Single surface design - Equipment design should reduce the number of connections between parts as much as possible, with an emphasis on utilizing butt welded connections whenever the technique is practical.

The manufacturer and owner must agree to the hygienic design of any connection that is used. All connections that are used must be accessible to both SIP and CIP operations. There will be no difficult areas to clean around a gasket joint, with an emphasis on avoiding deep crevices.

Dead legs are to be avoided whenever possible. To this end, ferrule connections are to be avoided, with short welding ferrules the preferred methodology here.

Any process contact fitting that will be exposed to liquids must be self draining, with threaded fittings to be avoided whenever possible.

Factory bent tubes must adhere to the standards set in Table DT-3-1, CLR(R).

When using pipe instead of tube, the hygiene requirements for tube that are described in Part SD should be followed even more closely, as pipe is usually less hygienic than tube.
Design Conformance Testing
One of the most important methods of ensuring the hygiene of equipment and components is the design conformance testing that occurs during and after installation. Test documents are required after each test, as is a record of personnel. The different types of testing that are used to uphold sanitary equipment standards is below.
Spray Device Coverage Test
Nonmandatory Appendix L of the ASME BPE standard goes over compliant spray device coverage tests. The purpose of this testing type is to ensure proper liquid coverage of the process contact surfaces so that those surfaces may be properly cleaned by cleaning agents. These tests are not meant to demonstrate the ability of the system to be cleaned; that is achieved chiefly through compliance with system design standards described above.
When properly administered, proper coverage can be determined visually with a UV lamp and a fluorescent solution, or substitute methods agreed to by the user and owner. Cleanability is verified through a CIP test administration, assuming that the spray device coverage test goes well.
Steaming, Cleaning and Bioburden Control Testing
When agreed to by the manufacturer, owner and user, steaming, cleaning and bioburden control testing may also be conducted alongside spray device coverage testing.
Leak Testing
If a leak testing is required, certain types of fluids should be used according to the type of testing that occurs:
Hydrostatic testing - Must use deionized water or purified water that is filtered at a minimum of 25 microns

Pneumatic testing - Must use dry air that is oil free and otherwise clean that is filtered at 25 microns or better. Alternatively, an inert gas or nitrogen may be used
Vessel Drainability Testing
If a bioprocess must be self draining, the following procedures should be considered:
The vessel should be tested as it will be operated within an acceptable tolerance range

The weld seam that connects the bottom head and the shell should serve as the baseline for the fill line

The vessel should be vented to the atmosphere, allowed to gravity drain, and have its outlet valve open

The owner and user must agree to a standard about puddles of water left under the bottom of the vessel as acceptable. In general, water droplets that are not larger than 5 mm in diameter may be disregarded.
Qualification Levels for Inspectors and Examiners
Inspectors and examiners are essential for setting the performance standard that will be audited both internally and externally. As such, a huge part of the sanitary equipment standards of the food industry have to do with the viability of the employees rendering day to day decisions on the equipment.
GR-4.2 of the ASME guidelines defines the Inspector's Delegate. Employers of those designated as Inspector's Delegate must be able to show documentation of qualification and training programs that ensure the qualifications of their personnel.
The qualification levels within the Inspector's Delegate distinction are fourfold:
Trainee - This level corresponds to an individual who is not certified on any level whatsoever. All trainees are required to work under the supervision of a Quality Inspector Delegate who is duly certified. Trainees are not allowed to conduct any independent tests or write any reports of test results.

QID 1 - The Quality Inspector Delegate (QID) 1 distinction is duly authorized to conduct specific evaluations, inspections and calibrations according to written instructions. A QID 1 may only perform inspections or tests under the direct supervision of a QID 2 or QID 3.

QID 2 - A QID 2 is duly authorized to calibrate and maintain the setup of equipment, as well as to evaluate and interpret results for any applicable specifications, codes or standards. A QID 2 must be closely familiar with the scope of an inspection before performing it, and they are assigned responsibility for any QID 1 personnel that are on the premises while conducting any test or inspection.

QID 3 - Along with the responsibilities and the permissions of a QID 2 and QID 1, a QID 3 may also establish new procedures and techniques for testing. QID 3 is duly authorized to interpret specifications, codes and standards as well as define the techniques and procedures that are to be used in an inspection or a test. QID 3 must be fully capable of training all other personnel.
Minimum Qualification Requirements
Section GR-4.2.2 establishes the minimum qualification requirements for each of the four levels of Inspector Delegate.
Trainee - A trainee must hold a minimum educational status of high school graduate or equivalent. Trainees are required to undergo a minimum 8 hours of training that is documented.

QID 1 - A QID 1 must serve under the distinction of a Trainee for at least 6 months, with full documentation of the employment available for audit. Prior certification as a QID 1 may serve as a substitution for this service, as will a passing grade within a 2 year university or tech school engineering or science study course. The QID 1 must also be in possession of either an AWS CWI certificate or an ACCP Level II VT certificate or its equivalent as recognized internationally. Additionally, the QID 1 must undergo a minimum of 16 additional hours of training and pass a written and practical performance test.

QID 2 - A QID 2 must serve as a QID 1 for at least 6 months with documentation of service available for audit. Prior certification as a QID 2 may serve as a substitution for this service, as will a passing grade within a 4 year university or tech school engineering or science study course. The QID 2 must also be in possession of either an AWS CWI certificate or an ACCP Level II VT certificate or its equivalent as recognized internationally. Additionally, the QID 1 must undergo a minimum of 16 additional hours of training and pass a written and practical performance test, and have 2 years of documented experience in testing hygienic systems.

QID 3 - A QID 3 must serve as a QID 2 for at least 24 months with documentation of service available for audit. Prior certification as a QID 3 may serve as a substitution for this service, as will 3 years of documented experience in on site hygienic systems testing. Additionally, the QID 3 must undergo a minimum of 40 additional hours of training and pass a written and practical performance test.
There are additional requirements at all levels, including a near vision acuity test, a color contrast test, and the compliance of the employer with all guidelines of ASNT SNT-TC-1A with respect to establishing a written practice of testing, training and certification.